---
USED BOATS
______________________________________________________________
SOLD
NACRA 570 with a trailer
It's a 2016 with the Sports package upgrade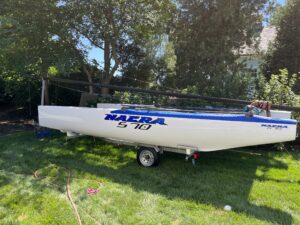 ---
2017 NACRA 20 CARBON
2017 Nacra 20C (carbon) 10′ 6″ wide. In very good condition. Includes the race package with tapered mainsheet, tapered spinnaker halyard, carbon fiber tiller extension, boat cover, covers for the daggerboards/rudders, Cat Trax, foot straps, adjustable daggerboard trunks and 4:1 jib downhaul. Carbon hulls, carbon mast.  Smoke main/jib and lime green spinnaker. Curved daggerboards. Trunks can be changed out for foiling.. Harken blocks, midpole snuffer system, self tacking jib. Located in RI. Asking $29,500. Call Rick Bliss at New England Catamarans 508-944-6220 for info. Photos available. Tilt trailer available with sail box.  rickbliss1520@gmail.com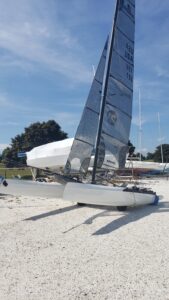 ---
UNDER AGREEMENT
2012 NACRA 20 CARBON
2012 NACRA 20C (carbon).  In great condition, used very little. Carbon hulls, carbon mast, 10′ 6″ beam. Smoke main and jib, blue spinnaker, self tacking jib, all in very good condition. Curved daggerboards, Harken blocks, midpole snuffer set up, all lines and rigging in very good condition, Top Gun mast cover, full boat cover, 2 PVC beams for trailering. all Rick Bliss at New England Catamarans at 508-944-6220 or email at rickbliss1520@gmail.com
---
NACRA (INTER) F-17
(SOLD) but another one has just come in for sale. Still cleaning and prepping for sale.
2000 NACRA F17 (the original Inter 17 – not the Olympic model). Hulls in good condition. Carbon mast. This one will soon have a new trampoline, new standing rigging, new hull logos.  The hulls are in good condition. Didn't get much use and wasn't used the last 12 years. The spinnaker was used maybe twice and is still crispy with no holes. Endpole snuffer system. The mainsheet looks almost new.  The daggerboards are good. Rudders will be spruced up.  Some battens will be replaced.  New footstraps. A galvanized trailer is included along with Cat Trax.  Titles or Certificates of Origin are in hand for the catamaran and trailer. Located in Mansfield, MA. Call Rick Bliss at 508-944-6220 or email at rickbliss1520@gmail.com for info.
---
CATALINA 25
1980 in great condition. The bottom was stripped to the fiberglass and coated with barrier coat. The keel was stripped and ground to a shine, then 6 coats of barrier coat were applied. During the process the keel was faired to some degree. A coat of black racing bottom paint was applied over the barrier coat, then 2 coats of blue anti-fouling paint over that.  Above water the hulls were compounded and two to three coats of wax have been applied each year. The exterior wood was removed, stripped and coated with 6 coats of marine varnish.  80% of the wood in the interior was removed, stripped and coated with 4-5 coats of teak oil. The non-skid was scrubbed and painted with a light gray textured deck paint rather than the original blue.  A stern railing was added. The main sail was new the middle of the summer in 2013.  It has too reef points. The 135% roller furling jib was new in late 2014. Boat wasn't used off and on for a few years so the sails are in very good condition. A new depth sounder was added in 2014. The compass was restored in 2013, the potty was new in 2013, the battery was replaced in 2016, the bow light was new in 2013, new VHF and antenna in 2017.  The 2002 8hp Johnson was overhauled in early 2018 and a new water pump and thermostat were installed. Starts in 2-3 pulls. Includes an anchor, chain and rode. Standard height mast with internal halyards. A really fun boat to sail.  Easy to take new sailors, young and old out and let them take the helm. Easy to singlehand. Sleeps several adults with several children. The boat is presently out of the water and stored in Swansea, MA.  $2,700.  Call Rick at 508-944-6220   rickbliss1520@gmail.com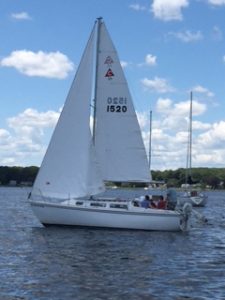 ---
NACRA (INTER) 20
Used 2000 Nacra 20 catamaran. Port hull in good condition, starboard hull could use a little cosmetic work where it was repaired after a collision behind the rear beam. Carbon mast. Main, jib and spinnaker in good condition. End pole snuffer system. Lines and trampoline in good condition. The trampoline has the lacing on both sides as well as at the rear. Rudders and daggerboards are good. Adjustable tiller extension. Trailer not included but a Trailex aluminum trailer is available for purchase. $4,000.
---
 PLAYCAT
2013 – Sport model (16′ 7″).  Used one day.  Roto-molded white hulls, single trapeze, jib, spinnaker with snuffer,  upgraded stern mounted rudders, square top main sail, 6:1 main sheet, tiller extension, main sail halyard lock.  Located in Mansfield, MA.  $4,200. without trailer. Trailers are available. Call Rick Bliss at 508-944-6220.
---